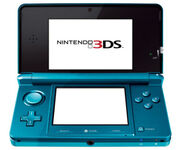 The Nintendo 3DS is the latest handheld console by Nintendo, released in 2010/2011. The most notable feature of this console is the use of autostereoscopic (i.e. without glasses) 3D, which can be configured using a slider.
There are currently 2 3DS emulators in development, Citra, and TronDSthe latter is in very early development.
Emulators
Edit
| Name | Operating System(s) | Latest Version | Active | Recommended |
| --- | --- | --- | --- | --- |
| 3dmoo | Windows | Git | ✗ | ✗ |
| Citra | Windows / OS X / Linux | Git | ✓ | ✓ |
| TronDS | Windows | v1.0.0.5 | ✓ | ✗ |
The Nintendo 3DS currently has three emulators in which are Citra, 3dmoo, and TronDS. [1]
Citra is capable of running most of the well-known 3DS games like:Legend of Zelda Ocarina of time, Inazuma eleven Shadow/Lightand many other, and at a playable speed and only on 64-bit systems. Most of hardware has been documented. There is still some work left to do, but it should run fine on most computers.Pokemon X and Y cannot be played without a save file and will run extremely slow.
References
Edit
Ad blocker interference detected!
Wikia is a free-to-use site that makes money from advertising. We have a modified experience for viewers using ad blockers

Wikia is not accessible if you've made further modifications. Remove the custom ad blocker rule(s) and the page will load as expected.