General Resources
Edit
General purpose 2D graphics/tile editor
Edit
Tile Molester. Works with Java, practically can edit any game.

Hex EditorEdit
XVI32 or Translhextion. You can edit the bytes of the ROMs, i.e. everything. Some values are obvious and some text is already ASCII.
Game Specific
Edit
Super Mario World
Edit
Super Metroid
Edit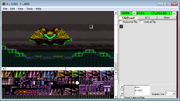 The Legend of Zelda: A Link to the Past
Edit
EarthBound
Edit
Yoshi's Island
Edit
Final Fantasy III (VI)
Edit
Final Fantasy Tactics
Edit
Fire Emblem
Edit
Sonic the Hedgehog
Edit
Mega Man X
Edit
Downloads
Edit
Ad blocker interference detected!
Wikia is a free-to-use site that makes money from advertising. We have a modified experience for viewers using ad blockers

Wikia is not accessible if you've made further modifications. Remove the custom ad blocker rule(s) and the page will load as expected.